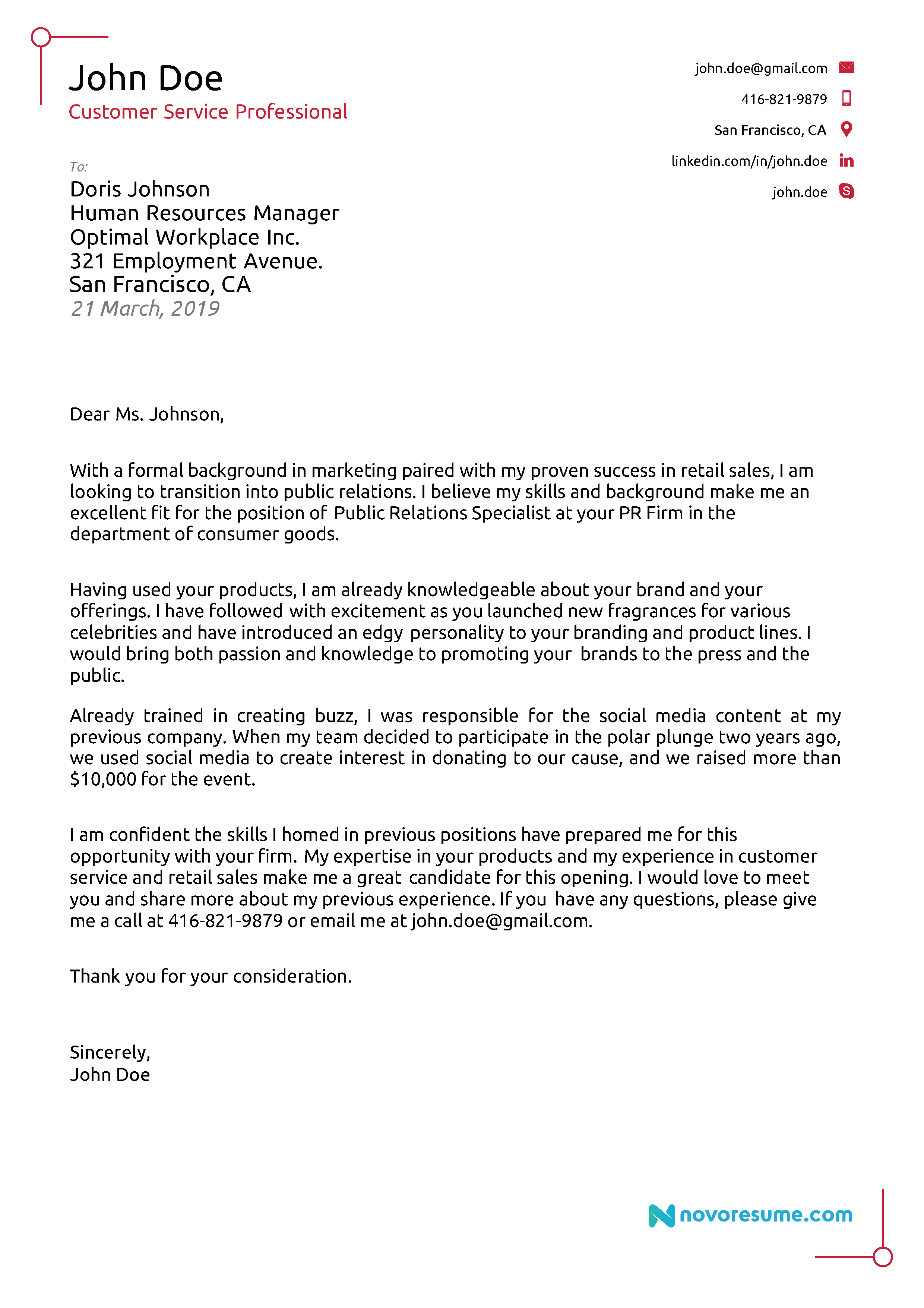 How to Write an Attention-Grabbing Opening Paragraph
After all, recruiters receive hundreds of applications daily. Obviously, they can't spend all their working hours reading cover letters, so, instead, they simply skim your cover letter in a handful of seconds, and if it catches their attention, they re-read it more thoroughly.
My name is Anna and I'd like to help your company exceed its sales target as a Sales Manager. My 5-year experience as a Sales Representative at XYZ Inc. has given me substantial skills in sales. During my last year working there, we beat KPIs by around 50%. I believe that my strong track record in sales makes me the perfect candidate for the position.
Hello, my name is Mary and I am interested in working as a Sales Manager for your company. I have 6 years of experience working as a Sales Manager for Company X, so I think I'm a good fit for the position.
Tip #1. Show Passion and Commitment
Showing the hiring manager that you're passionate about the job will instantly boost your chances of getting hired. It's not a secret that committed employees are more engaged and, therefore, more productive.
I have been immersed with human rights since I specialized in Conflict Resolution and started working with Amnesty International. During my 5 years of experience in the field, however, I haven't seen any organization do the work that you've accomplished with human rights. Your dedication makes me want to work for your organization and put my skills to use for the work you do.
Tip #2. Mention a Mutual Contact (if Applicable)
Referrals are key to securing an interview, but at the same time they're not something you can mention on your resume, so take the opportunity to let the recruiter know at the start of your cover letter.
I was excited to learn about this job opportunity from John Doe, who has worked at your firm for five years. John and I worked on an architectural project together for over one year and he thought I'd be a good fit for the role at Company X.
Tip #3. Prove You Have Researched The Company
The recruiter reading your cover letter wants to know that you're excited to be applying for that particular company, and you're not just applying to dozens of jobs randomly, hoping that one will stick.
I have always admired the work that your organization does with vulnerable communities. I have always been passionate about social justice and I think the mechanisms you have in place to empower those in need are really making an impact. I believe my previous experience as a social worker could bring value to your mission.
Tip #4. Lead With An Achievement
As a Public Relations representative for Company XYZ, I worked with the press to improve its reputation and public image. This translated into a 40% increase in customer satisfaction and better public reception of the company's values and identity. I am eager to yield the same results as the Head of Communications in your organization.
Tip #5. Start With a Powerful Belief
A short and impactful belief statement that represents your work ethic and professional values is another great way to attract the recruiter's attention. Obviously, you get bonus points if said belief statement aligns with the company's goals and objectives.
As a teacher, I believe every child should have access to quality education early on. This is the only way to ensure future generations' equity and the best chance we have at improving our society. I admire your institution's commitment to enabling quality education in the most remote areas of our country and I'd be honored to contribute to those efforts by becoming a teacher here.
Tip #6. Be Direct
Oftentimes, beating around the bush gets you nowhere. So, a great strategy to follow when you start writing your cover letter is to just be direct about the position you're applying for and the reasons you believe make you the perfect fit for the job.
There's another upside to this. Recruiters receive hundreds of applications daily – sometimes, even for different positions within the same department – so it helps them to know what position you're applying for early on, as well as what exact qualifications make you the perfect fit for the job.
I'd like to officially apply for the marketing manager position at Company X. Over the past 7 years, I've worked with 6 clients, helping them drive more than 5000,000,000 worth of sales. I am confident that my marketing skills and proven sales results make me a perfect match for the position.
How to Write the Perfect Cover Letter (And Get Hired!)
Step #1 – Pick the Right Cover Letter Template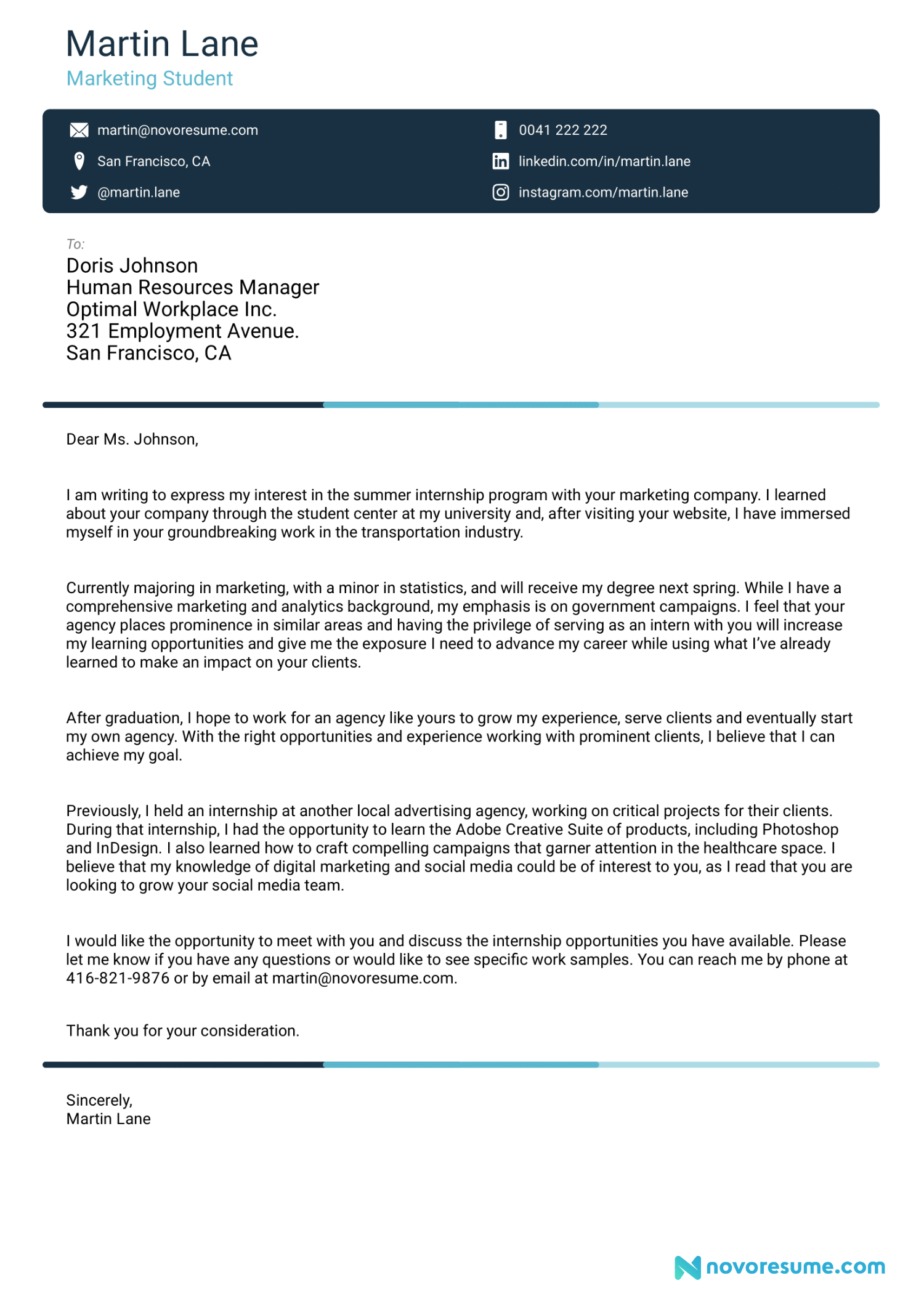 Step #2 – Start the Cover Letter with a Header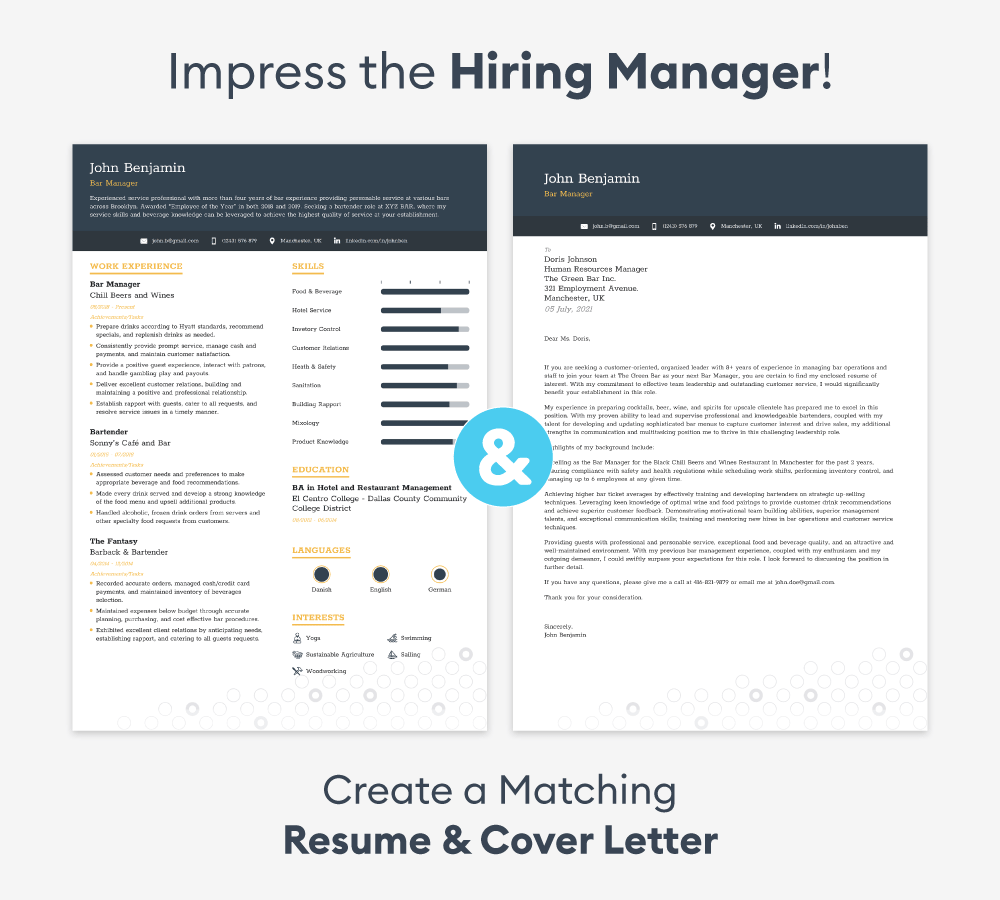 Step #3 – Greet the Hiring Manager
That's right, the hiring manager! Not the overly popular "Dear Sir or Madam." You want to show your future boss that you did your research and are really passionate about working with their team.
The simplest option is to look up the head of the relevant department on LinkedIn. Let's say you're applying for the position of a Communication Specialist at Novoresume. The hiring manager is probably Head of Communications or Chief Communications Office.

Step #4 – Write an Attention-Grabbing Introduction
Instead, you want to start off with 2-3 of your top achievements to really grab the reader's attention. Preferably, the achievements should be as relevant as possible to the position.
My name's Michael and I'd like to help XYZ Inc. hit and exceed their sales goals as a Sales Manager. I've worked with Company X, a fin-tech company, for 3+ years. As a Sales Representative, I generated an average of $30,000+ in sales per month (beating the KPIs by around 40%). I believe that my previous industry experience, as well as excellence in sales, makes me the right candidate for the job.
Now that we've covered the introduction, let's talk about the body of your cover letter. This part is split into two paragraphs: the first is for explaining why you're the perfect person for the job, and the latter is for proving that you're a good fit for the company.
Step #5 – Explain why you're the perfect person for the job
But first things first – before you even write anything, you need to learn what the most important requirements for the role are. So, open up the job ad and identify which of the responsibilities are the most critical.
In my previous role as a Facebook Marketing Expert at XYZ Inc. I handled customer acquisition through ads, managing a monthly Facebook ad budget of $20,000+. As the sole digital marketer at the company, I managed the ad creation & management process end-to-end. Meaning, I created the ad copy , images, picked the targeting, ran optimization trials, and so on.
Step #6 – Explain why you're a good fit for the company
Once you've written the last paragraph, you might be thinking – I'm a shoo-in for the job! What else do I need to write? I'll just wrap up the cover letter and hit that sweet SEND button.
I've personally used the XYZ Smartphone, and I believe that it's the most innovative tech I've used in years. The features such as Made-Up-Feature #1 and Made-Up-Feature #2 were real game changers for the device.
I really admire how Company XYZ thrives for excellence for all its product lines, creating market-leading tech. As someone that thrives in a self-driven environment, I truly believe that I and Company XYZ will be a great match.
What you don't want to do here is be super generic for the sake of having something to write. Most job seekers tend to mess this one up. Let's take a look at a very common example we tend to see (way too often):
I'd love to work for Company XYZ because of its culture of innovation. I believe that since I'm super creative, I'd be a good fit for the company. The company values of integrity and transparency really vibe with me.
Step #7 – Wrap up with a call to action
So to wrap it all up, thanks for looking into my application. I hope I can help Company X make the most out of their Facebook marketing initiatives. I'd love to further discuss how my previous success at XYZ Inc. can help you achieve your facebook marketing goals.
Step #8 – Use the right formal closing
Source:
https://novoresume.com/career-blog/how-to-start-a-cover-letter
https://novoresume.com/career-blog/how-to-write-a-cover-letter-guide
https://resumegenius.com/blog/cover-letter-help/how-to-start-a-cover-letter
How to Start a Cover Letter – 4 Tips for the Perfect Opening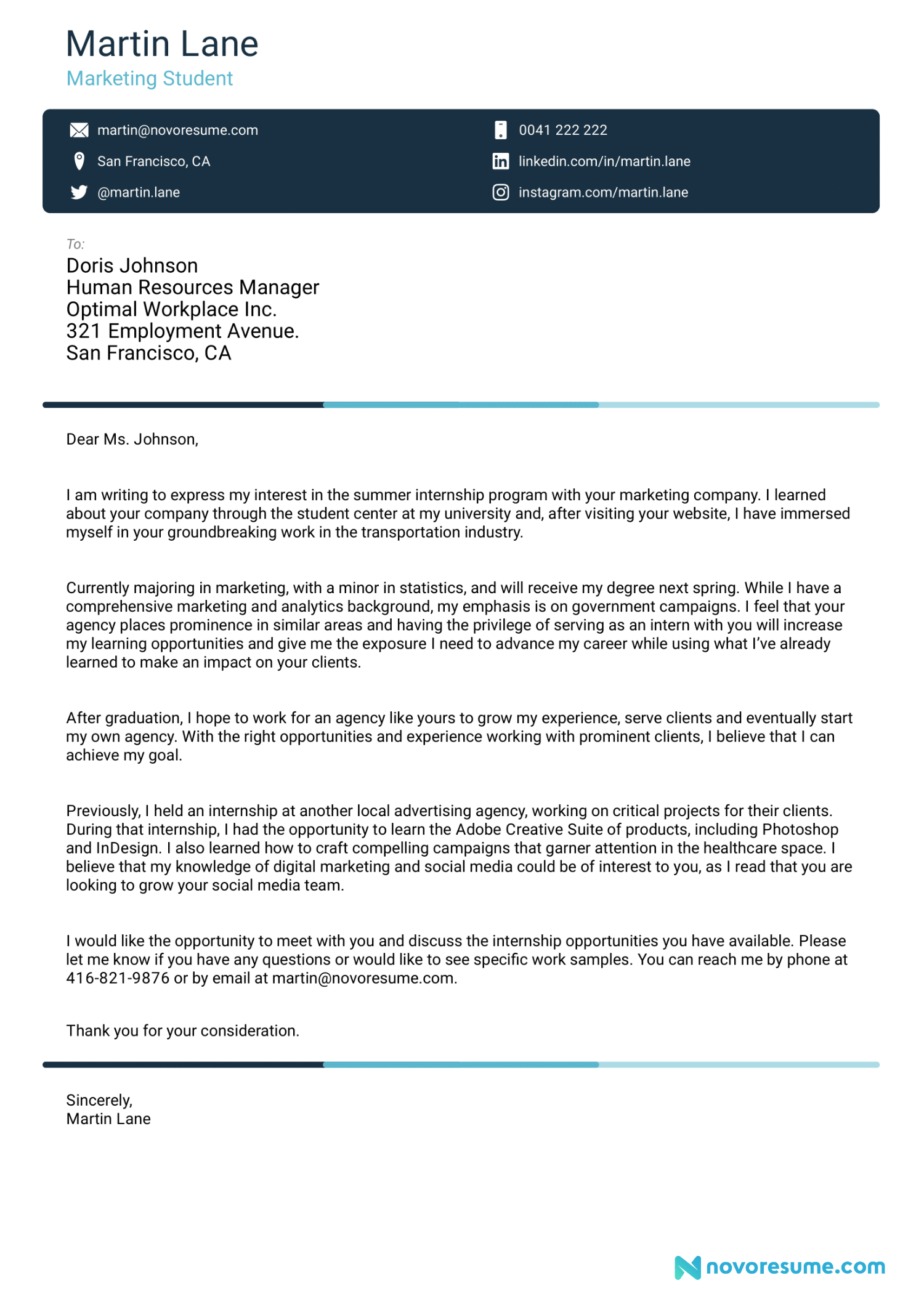 8 Powerful Ways to Start a Cover Letter (With Examples)
A cover letter is the perfect way to get the hiring manager's attention and detail your accomplishments. To immediately get the employer's attention, you need a powerful introduction that sets you apart from the competition. Learning how to start your cover letter ensures you set a positive tone for the rest of your application. In this article, we offer some ways to start your cover letter and provide examples.
1. Show your enthusiasm
Being enthusiastic is often a good predictor of a strong work ethic. It also shows that you're motivated to get the role. Start your cover letter with one or two reasons that make you excited about the open role, like the company culture, certain events it produces or duties you would be responsible for.
Example: "I was excited to see that Yukon Industries is hiring an event manager who is skilled at increasing brand awareness and driving growth with high-traffic events, especially since I've attended several of your company's speaking events myself. With my five years of experience coordinating events in the corporate world, I confident that I'm a great fit for the role."
2. Highlight a mutual connection
If a former colleague referred you to the job, the beginning of your cover letter can be a place to mention that connection. It grabs the hiring manager's attention because they'll want to see why someone they know recommended you for the role. If the hiring manager respects and values the opinions of the colleague you mention, you have a higher chance of getting to the next step in the hiring process. Mentioning a mutual connection also serves as a positive reference should the hiring manager contact them.
Example: "I was excited to learn of this job opportunity from my former colleague, Alex Johnson. He and I have worked closely together for many years, most recently on a complex data analysis project at J.J. Manufacturing. He thought that I would be a good match for this position on your team."
3. Lead with an impressive accomplishment
Write an attention-grabbing opening paragraph that leads with an impressive achievement and features quantifiable results. It's important to make connections between how you added value at a previous job and how you can apply it to the new role. Think of one particular accomplishment that relates especially well to the job.
Example: "Last month alone, I more than doubled J.J. Manufacturing's social media followers and ran two successful ad campaigns that generated $25,000 in revenue. I'd love to bring my expertise to organically expand your social reach and deliver ROI as the social media manager at your company."
4. Explain what you like about the company
Begin your cover letter with evidence that you've done your research. If the company you're applying for was recently in the news, mention it in the opening line and tie it into why you admire the company. To avoid sounding insincere with your compliments, bring up a specific event, fact, notable statistic or award the company recently won.
Example: "I was inspired when I saw that Yukon Industries was featured in Excel Magazine last month for its commitment to renewable energy and reducing waste in the workplace—all while experiencing triple-digit revenue growth. With my track record of reducing costs by 30% and promoting greener workplaces, I'm excited about the possibility of taking on the account executive role to expand your company's growth and work toward a more sustainable future."
5. Express passion for what you do
Passion is one of the greatest driving factors behind success. Since hiring managers are looking for candidates who can be advocates for their company and come with a strong work ethic, starting off by expressing your passions and motivations is a good attention grabber. Choose one or two factors that accurately and concisely depict your passion for your career. Explain why these passions make you a valuable candidate.
Example: "I've been passionate about writing since I was the editor-in-chief of my middle school newspaper. Throughout my 10+ years of experience, I've channelled this passion into a personal blog with 20,000+ monthly readers and a writer's workshop I founded for inner-city teens. I believe my passion for writing would make me an excellent copywriter at Yukon Industries."
6. Tell a creative story
Although your cover letter is a professional document, it's usually okay to include some humour, charisma and creativity, as long as it's appropriate for the specific job and company. Hiring managers can receive hundreds of applications, and they are looking for something that catches and keeps their attention. Do some research on the company culture, examine the tone of the job posting and use your own judgment when going the creative route.
Example: "It was exactly two hours before a critical meeting with one of our biggest clients—and my manager had just asked me to completely redo our entire sales pitch. Under this time crunch, I reworked our pitch from the ground up, collaborating with teams across several departments to deliver a completely new presentation on time. The best part? Our client loved the pitch, and we closed the sale within 30 minutes."
Tips for starting your cover letter
Keep it concise. Your entire cover letter should be relatively short, only about a page. That way, you can keep the employer's attention throughout. A short opening paragraph should be enough to get the hiring manager's interest.
Use numbers when applicable. If you include accomplishments in your opening, try to quantify them to better impress the hiring manager. Using numbers to detail your qualifications in your opening also helps put your work into perspective. For example, you can write that you helped improve customer satisfaction by 16% in the last quarter.
Use keywords. Look for keywords in the posting that you can add to your opening. Words like "team player," "driven" and "self-starter" are words to look out for. If any of them describe your work ethic or characteristics, include them in your cover letter.
Personalize each cover letter. Every cover letter you send should have an opening that targets the company. A personalized opening shows you took the time to make a unique cover letter and that you're truly interested in that specific role. Once you finish writing a new opening, proofread it to ensure it's free of spelling and grammatical mistakes.
Resource:
https://ca.indeed.com/career-advice/resumes-cover-letters/how-to-start-a-cover-letter
https://novoresume.com/career-blog/how-to-start-a-cover-letter
https://novoresume.com/career-blog/how-to-write-a-cover-letter-guide